Real Estate Broker, REALTOR, Notary Public
A native of the picturesque Black Forest region in Southern Germany, Deniz has been living in the beautiful Sunshine State for over 22 years, most of that time in Southwest Florida. Studies and work have also taken him to Miami and Orlando, where he spent several years respectively.
Coming from a family of international small business entrepreneurs, Deniz was from an early age on exposed to the many facets of operating a commercial enterprise. He understands the significant duties and responsibilities that come with operating a business, in his case a real estate brokerage. Distinguished customer service and customer satisfaction are Deniz's top priorities, as he considers customer relations to be one of the most important aspects when managing a company.
Deniz strives to continually educate himself for personal as well as professional gains and to fulfill and exceed his business motto "Integrity, Service, Excellence". He is a licensed Florida real estate broker, a REALTOR and a Florida Notary Public, and he is also a member of the National Association of Realtors, the Florida Association of Realtors, as well as the Royal Palm Coast Realtor Association. Deniz studied at Edison College (now Florida SouthWestern State College) in Fort Myers, Miami-Dade College in Miami and Valencia Collage in Orlando.
Through his extensive travels and interaction with people from various cultures, Deniz gained a thorough understanding on how to interact with customers from diverse backgrounds, specifically with regards to cultural differences and sensitivities.
During his free time, Deniz likes to enjoy nature with his family, this includes hiking in the forests, strolling on the beach, swimming in the Gulf of Mexico and tending to his garden with a collection of some of the worlds rarest and most endangered tropical plants. Cooking and reading are his other interests particularly on rainy days. He also enjoys spending quality time with his pets.
If you are searching for a reliable Florida real estate agent with integrity, who strives to provide each individual client with exceptional customer service and always aims for a smooth transaction, then Deniz is the best suitable REALTOR to consider for your all your Southwest Florida real estate needs.
deniz@mcgregorpalms.com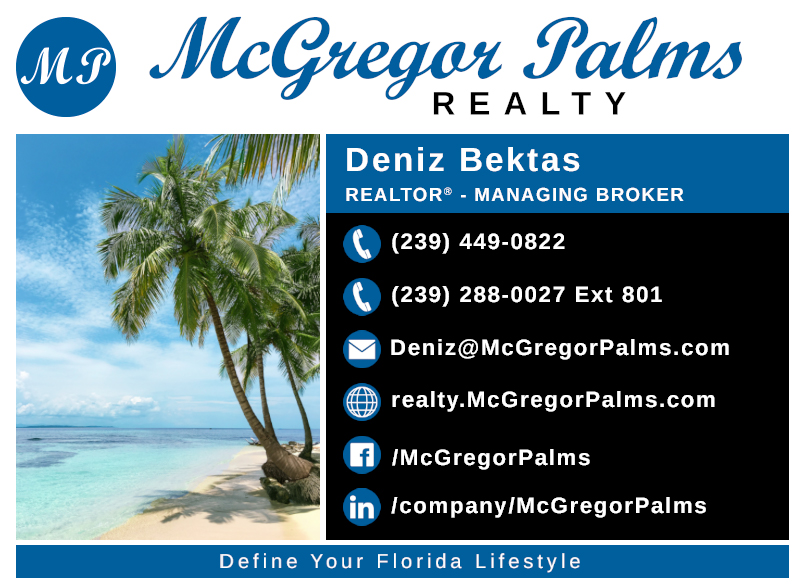 Agent's Additional Profiles: