Real Estate Broker, Managing Partner
A life long Florida resident, Lester brings to the table vast knowledge and a wealth of experience in the particulars of the South Florida real estate market. He works with a wide range of customers, from first time homebuyers to representing high net worth clients seeking luxury properties. With real passion for the real estate industry, a strong work ethic, and friendly approachable demeanor, Lester provides his customers with superior service and expertise. Customers find that his professionalism sets him apart. With his customers' best interests always in mind, he prides himself on always going above and beyond. Highly driven in every respect, he has a focused high energy approach intended to help customers achieve their goals in the quickest and most efficient way possible.
Lester was born in Hialeah, Florida. He is a graduate from Monsignor Edward Pace High School, and attended Embry-Riddle Aeronautical University in Daytona Beach. With a background in aerospace engineering, robotics and industrial automation, as well as many years of experience working for multinational fortune 500 companies, his analytical and business skills help his customers assess the local market and develop bespoke marketing strategies that best serve their real estate needs. He enjoys helping first time home buyers and represents buyers, sellers and investors with equal dedication and passion. Lester takes great pride in establishing solid long term working relationships with his customers and he understands the importance of leveraging the power of technology together with high impact marketing to ensure amazing results. He prides himself on being accessible around the clock, seven days a week, so that his customers have his full guidance throughout the entire process. Lester is a member of the National Association of Realtors, the Florida Association of Realtors, as well as the Royal Palm Coast Realtor Association, and the Miami Association of Realtors.
In his spare time Lester enjoys spending time at home with his family and working on restoring his mid century modern home. An avid garden Lester is deeply involved in the conservation of rare and endangered tropical palms from around the world. Having lived his entire life in Florida, he is deeply committed to both the state and our local South Florida community.
Lester Alfonso is doing what he loves, and loving the opportunity to help others. For an exceptional real estate experience, contact Lester today.
Lester@McGregorPalms.com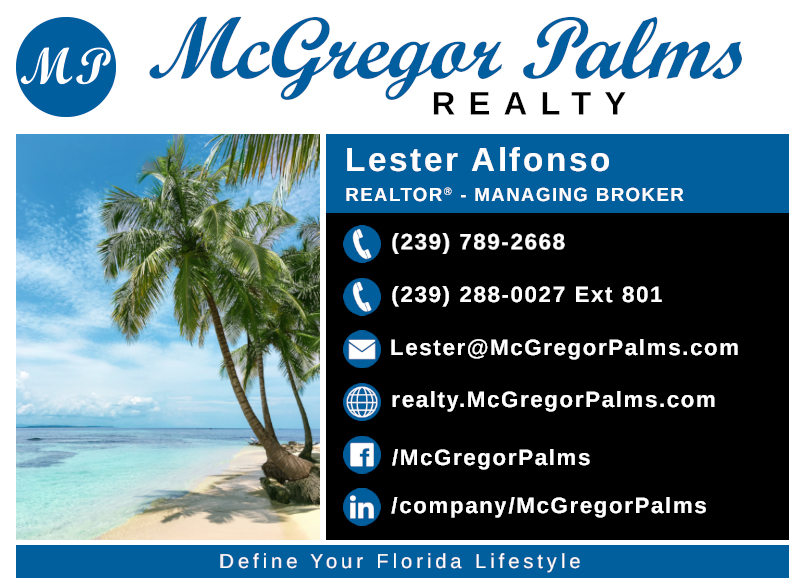 Agent's Additional Profiles: